Dress to Express - Non-Uniform Day Thursday 9th February 2023
Dress to Express - Non-Uniform Day Thursday 9th February 2023
8 February 2023 (by admin)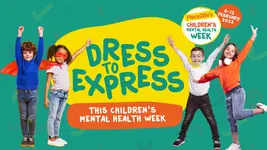 Good evening,
Tomorrow (Thursday 9th February 2023) we are inviting all children to wear their own clothes for our 'Dress to Express' day. Ideas include:
wearing their favourite colour, pattern or favourite clothes!
Children should, however, be dressed for the weather and in suitable footwear.
We are raising money for Children's Mental Health. Any donation would be greatly appreciated.
We look forward to seeing everyone tomorrow!