Chicks in school!
Chicks in school!
30 March 2017 (by admin)
Whitehall Infants have had some fluffy visitors...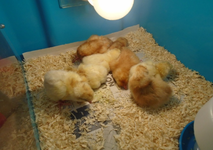 As part of the science curriculum, children have had the opportunity to see our chicks hatch. The eggs were delivered on 20th March and were kept in the incubator to keep warm. Around 2-3 days later the first eggs hatched! The chicks have grown quickly and children have loved visiting them every day to see their progress. What an egg-citing experience!